I ran in the Blackmore's Half Marathon on Sunday. It was my first 'real' running event, and more than anything it was a learning experiece for me.
I learned the following:
Peking Duck is not a great choice for dinner the night before a 5am start, even if it is your favourite food of all time.
The ingestion of said Peking Duck, coupled with the jitters and nerves associated with being completely scared witless will require you to use a portaloo with 10 minutes to go before the start time.
The queue for the portaloo will be 25 minutes long, and while you're waiting you will be fail to realise that the race has already begun.
By the time you finally emerge from the portaloo, you will only have 2 minutes to get to the start line, which is 300m away at the top of a frigging very steep hill.
Sprinting up a steep hill and feeling completely parched in the heat before you begin your first half marathon isn't the best way to start.
Marathon photos will make you look nine months pregnant.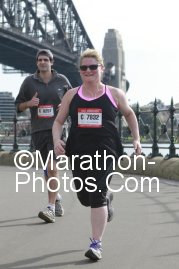 But like childbirth, the minute it's over you know you'd be happy to do it again.